Non-Hodgkin's lymphoma is a type of cancer that begins in your lymphatic system, which is part of the body's germ-fighting immune system. In non-Hodgkin's lymphoma, white blood cells called lymphocytes grow abnormally and can form growths (tumors) throughout the body.
Non-Hodgkin's lymphoma is a general category of lymphoma. There are many subtypes that fall in this category. Diffuse large B-cell lymphoma and follicular lymphoma are among the most common subtypes. The other general category of lymphoma is Hodgkin's lymphoma.
Advances in diagnosis and treatment of non-Hodgkin's lymphoma have helped improve the prognosis for people with this disease.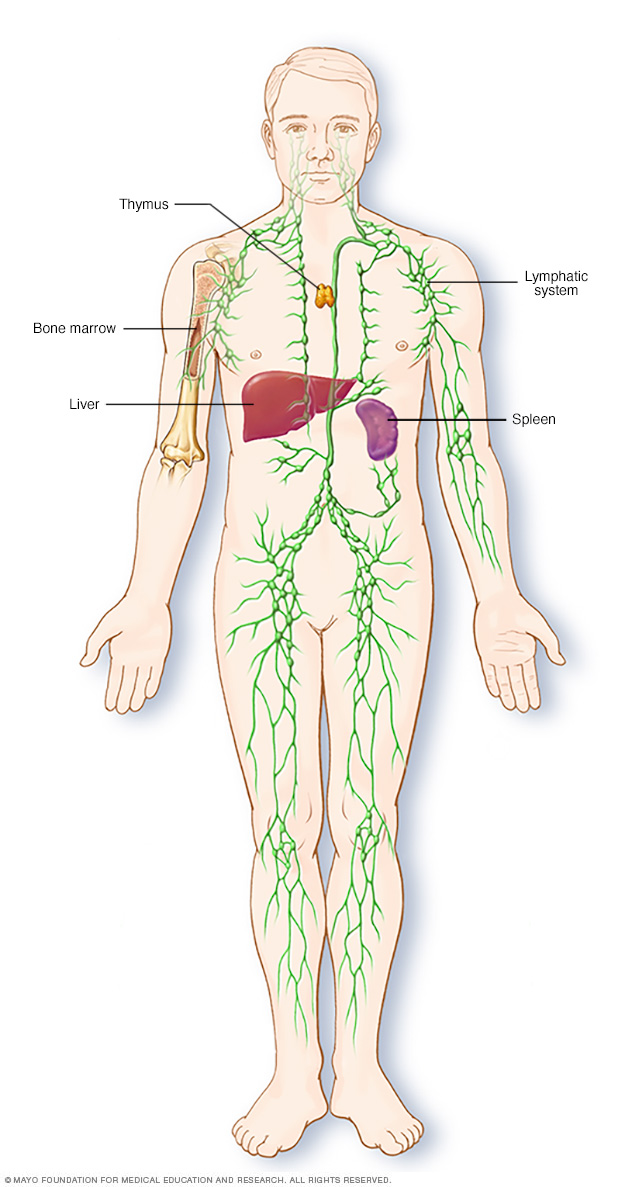 Parts of the immune system
The lymphatic system is part of the body's immune system, which protects against infection and disease. The lymphatic system includes the spleen, thymus, lymph nodes and lymph channels, as well as the tonsils and adenoids.
Symptoms
Signs and symptoms of non-Hodgkin's lymphoma may include:
Swollen lymph nodes in your neck, armpits or groin
Abdominal pain or swelling
Chest pain, coughing or trouble breathing
Persistent fatigue
Fever
Night sweats
Unexplained weight loss
When to see a doctor
Make an appointment with your doctor if you have any persistent signs and symptoms that worry you.