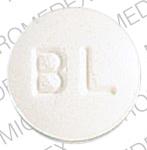 Neomycin Sulfate
Imprint
BL 18
Strength
500 mg
Color
White
Size
11.00 mm
Shape
Round
Availability
Prescription only
Drug Class
Aminoglycosides
Pregnancy Category
D - Positive evidence of risk
CSA Schedule
Not a controlled drug
Labeler / Supplier
Teva Pharmaceuticals USA
National Drug Code (NDC)
00093-1177
Inactive Ingredients
calcium stearate, povidone k29/32
Generic name: neomycin (nee oh MY sin)
Brand name: Mycifradin, Neo-Fradin, Neo-Tab
Dosage forms: oral tablet (500 mg)
Drug class: Aminoglycosides
Neomycin is an antibiotic that is used to prevent bacterial infection in the intestines. Neomycin is also used to reduce the symptoms of hepatic coma.
Neomycin is sometimes given with another antibiotic.
Neomycin may also be used for purposes not listed in this medication guide.
Warnings
Oral route (Tablet; Solution)
Neomycin can harm your kidneys or cause hearing problems. Hearing loss may be permanent if you take too much neomycin or take it for longer than recommended. Systemic absorption of neomycin occurs following oral administration and toxic reactions may occur. Patients treated with neomycin should be under close clinical observation because of the potential toxicity associated with their use.Neurotoxicity (including ototoxicity) and nephrotoxicity following the oral use of neomycin sulfate have been reported, even when used in recommended doses. The potential for nephrotoxicity, permanent bilateral auditory ototoxicity and sometimes vestibular toxicity is present in patients with normal renal function when treated with higher doses of neomycin and/or for longer periods that recommended. Serial, vestibular, and audiometric tests, as well as tests of renal function, should be performed (especially in high risk patients).The risk of nephrotoxicity and ototoxicity is greater in patients with impaired renal function. Ototoxicity is often delayed in onset and patients developing cochlear damage will not have symptoms during therapy to warn them of developing eighth nerve destruction and total or partial deafness may occur long after neomycin has been discontinued.Neuromuscular blockage and respiratory paralysis have been reported following the oral use of neomycin. The possibility of the occurrence of neuromuscular blockage and respiratory paralysis should be considered if neomycin is administered, especially to patients receiving anesthetics, neuromuscular blocking agents such as tubocurarine, succinylcholine, decamethonium, or in patients receiving massive transfusions of citrate anticoagulated blood. If blockage occurs, calcium salts may reverse these phenomena but mechanical respiratory assistance may be necessary.Concurrent and/or sequential systemic, oral, or topical use of other aminoglycosides, including paromomycin and other potentially nephrotoxic and/or neurotoxic drugs such as bacitracin, cisplatin, vancomycin, amphotericin B, polymyxin B, colistin, and viomycin should be avoided because the toxicity may be additive.Other factors which increase the risk of toxicity are advanced age and dehydration.The concurrent use of neomycin with potent diuretics such as ethacrynic acid or furosemide should be avoided since certain diuretics by themselves may cause ototoxicity. In addition, when administered intravenously, diuretics may enhance neomycin toxicity by altering the antibiotic concentration in serum and tissue.
Before taking this medicine
You should not take neomycin if you are allergic to it, or if you have:
ulcerative colitis, Crohn's disease, or other inflammatory bowel disease;
a blockage in your intestines; or
an allergy to similar antibiotics such as amikacin, gentamicin, kanamycin, paromomycin, streptomycin, or tobramycin.
Tell your doctor if you have ever had:
kidney disease;
myasthenia gravis; or
Parkinson's disease.
May harm an unborn baby. Tell your doctor if you are pregnant.
Do not breastfeed.
Do not give neomycin to a child without medical advice.
Neomycin Pregnancy Warnings
Animal studies have not been reported. There are reports of total irreversible, bilateral congenital deafness in children whose mothers used streptomycin during pregnancy. Evidence of (probably reversible) damage to immature nephrons of the fetal kidney associated with gentamicin use, and eighth cranial nerve damage associated with aminoglycoside exposure in utero have been reported. There are no controlled data in human pregnancy.

AU TGA pregnancy category D: Drugs which have caused, are suspected to have caused or may be expected to cause, an increased incidence of human fetal malformations or irreversible damage. These drugs may also have adverse pharmacological effects. Accompanying texts should be consulted for further details.

US FDA pregnancy category D: There is positive evidence of human fetal risk based on adverse reaction data from investigational or marketing experience or studies in humans, but potential benefits may warrant use of the drug in pregnant women despite potential risks.
Use is recommended only if clearly needed and the benefit outweighs the risk.

AU TGA pregnancy category: D
US FDA pregnancy category: D

Comments:
-Therapeutic blood levels in the mother do not equate with safety for the fetus.
-Some experts recommend: Aminoglycosides should be considered potentially ototoxic and nephrotoxic to the fetus.
How should I take neomycin?
Follow all directions on your prescription label and read all medication guides or instruction sheets. Use the medicine exactly as directed.
Never take more than prescribed, or take for longer than 2 weeks. High doses or long-term use of neomycin can cause permanent hearing loss.
Keep using this medicine even if your symptoms quickly improve. Skipping doses could make your infection resistant to medication. Neomycin will not treat a viral infection (flu or a common cold).
Drink plenty of water each day to stay hydrated.
Your hearing and kidney function may need to be tested.
For hepatic coma, neomycin is usually taken for only 5 to 6 days. Avoid eating foods high in protein during this time. Follow all instructions of your doctor or dietitian about adding protein back to your diet after treatment.
Tell your doctor if you have a planned surgery.
Store tightly closed at room temperature, away from moisture and heat.
What happens if I miss a dose?
Take the medicine as soon as you can, but skip the missed dose if it is almost time for your next dose. Do not take two doses at one time.
What happens if I overdose?
Seek emergency medical attention or call the Poison Help line at 1-800-222-1222.
What should I avoid while taking neomycin?
Do not share neomycin with another person, even if they have the same symptoms you have.
Neomycin side effects
Get emergency medical help if you have signs of an allergic reaction: hives; difficult breathing; swelling of your face, lips, tongue, or throat.
Call your doctor at once if you have:
numbness or tingly feeling under your skin;
hearing problems (even long after you stop taking neomycin);
muscle twitching, seizure;
weak or shallow breathing; or
kidney problems--swelling, urinating less, feeling tired or short of breath.
Common side effects may include:
nausea, vomiting; or
diarrhea.
This is not a complete list of side effects and others may occur. Call your doctor for medical advice about side effects. You may report side effects to FDA at 1-800-FDA-1088.
What other drugs will affect neomycin?
Neomycin can harm your kidneys, especially if you also use certain medicines for infections, cancer, osteoporosis, organ transplant rejection, bowel disorders, high blood pressure, or pain or arthritis (including Advil, Motrin, and Aleve).
Tell your doctor about all your other medicines, especially:
any other antibiotics;
digoxin;
fluorouracil;
methotrexate;
vitamin B-12;
a blood thinner--warfarin, Coumadin, Jantoven; or
a diuretic or "water pill"--furosemide or ethacrynic acid.
This list is not complete. Other drugs may affect neomycin, including prescription and over-the-counter medicines, vitamins, and herbal products. Not all possible drug interactions are listed here.