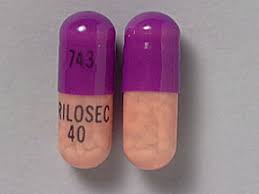 Generic name: omeprazole (oh MEP ra zol)
Brand name: Prilosec
Drug class: Proton pump inhibitors
Prilosec (omeprazole) is a proton pump inhibitor that decreases the amount of acid produced in the stomach.
Prilosec is used to treat symptoms of gastroesophageal reflux disease (GERD) and other conditions caused by excess stomach acid. Omeprazole is also used to promote healing of erosive esophagitis (damage to your esophagus caused by stomach acid).
Prilosec may also be given together with antibiotics to treat gastric ulcer caused by infection with Helicobacter pylori (H. pylori).
Over-the-counter Prilosec OTC is used in adults to help control heartburn that occurs 2 or more days per week. Prilosec OTC must be taken as a course for 14 days in a row.
Warnings
Prilosec is not to be used for the immediate relief of heartburn symptoms.
Heartburn is often confused with the first symptoms of a heart attack. Seek emergency mdical attention if you have chest pain or heavy feeling, pain spreading to the arm or shoulder, nausea, sweating, and a general ill feeling.
Omeprazole can cause kidney problems. Tell your doctor if you are urinating less than usual, or if you have blood in your urine.
Diarrhea may be a sign of a new infection. Call your doctor if you have diarrhea that is watery or has blood in it.
Prilosec may cause new or worsening symptoms of lupus. Tell your doctor if you have joint pain and a skin rash on your cheeks or arms that worsens in sunlight.
You may be more likely to have a broken bone while taking this medicine long term or more than once per day.
Prilosec OTC (over-the-counter) should be taken for no longer than 14 days in a row. Allow at least 4 months to pass before you start another 14-day treatment.
Before taking this medicine
Heartburn can mimic early symptoms of a heart attack. Get emergency medical help if you have chest pain that spreads to your jaw or shoulder and you feel sweaty or light-headed.
You should not use Prilosec if you are allergic to omeprazole, or if:
you are also allergic to medicines like omeprazole, such as esomeprazole, lansoprazole, pantoprazole, rabeprazole, Nexium, Prevacid, Protonix, and others;
you had breathing problems, kidney problems, or a severe allergic reaction after taking omeprazole in the past; or
you also take HIV medication that contains rilpivirine (such as Complera, Edurant, Odefsey, Juluca).
Ask a doctor or pharmacist if this medicine is safe to use if you have:
trouble or pain with swallowing;
bloody or black stools, vomit that looks like blood or coffee grounds;
heartburn that has lasted for over 3 months;
frequent chest pain, heartburn with wheezing;
unexplained weight loss;
nausea or vomiting, stomach pain;
liver disease;
low levels of magnesium in your blood; or
osteoporosis or low bone mineral density (osteopenia).
You may be more likely to have a broken bone in your hip, wrist, or spine while taking a proton pump inhibitor long-term or more than once per day. Talk with your doctor about ways to keep your bones healthy.
Ask a doctor before using this medicine if you are pregnant or breastfeeding.
Do not give Prilosec to a child without medical advice.
How should I take Prilosec?
Take Prilosec exactly as directed on the label, or as prescribed by your doctor. Follow all directions on your prescription label and read all medication guides or instruction sheets.
Use Prilosec OTC (over-the-counter) exactly as directed on the label, or as prescribed by your doctor.
Read and carefully follow any Instructions for Use provided with your medicine. Ask your doctor or pharmacist if you do not understand these instructions.
If you cannot swallow a capsule whole, open it and sprinkle the medicine into a spoonful of applesauce. Swallow the mixture right away without chewing. Do not save it for later use.
You must dissolve Prilosec powder in a small amount of water. This mixture can either be swallowed or given through a nasogastric (NG) feeding tube using a catheter-tipped syringe.
Use this medicine for the full prescribed length of time, even if your symptoms quickly improve.
OTC Prilosec should be taken for only 14 days in a row. It may take 1 to 4 days before your symptoms improve. Allow at least 4 months to pass before you start a new 14-day course of treatment.
Call your doctor if your symptoms do not improve, or if they get worse.
Some conditions are treated with a combination of Prilosec and antibiotics. Use all medications as directed.
This medicine can affect the results of certain medical tests. Tell any doctor who treats you that you are using Prilosec.
Store at room temperature away from moisture and heat.
What happens if I miss a dose?
Take the medicine as soon as you can, but skip the missed dose if it is almost time for your next dose. Do not take two doses at one time.
What happens if I overdose?
Seek emergency medical attention or call the Poison Help line at 1-800-222-1222.
What to avoid
This medicine can cause diarrhea, which may be a sign of a new infection. If you have diarrhea that is watery or bloody, call your doctor before using anti-diarrhea medicine.
Prilosec side effects
Get emergency medical help if you have signs of an allergic reaction to Prilosec: hives; difficulty breathing; swelling of your face, lips, tongue, or throat.
Stop using Prilosec and call your doctor at once if you have:
severe stomach pain, diarrhea that is watery or bloody;
new or unusual pain in your wrist, thigh, hip, or back;
seizure (convulsions);
kidney problems - fever, rash, nausea, loss of appetite, joint pain, urinating less than usual, blood in your urine, weight gain;
low magnesium - dizziness, irregular heartbeats, feeling jittery, muscle cramps, muscle spasms, cough or choking feeling; or
new or worsening symptoms of lupus - joint pain, and a skin rash on your cheeks or arms that worsens in sunlight.
Taking Prilosec long-term may cause you to develop stomach growths called fundic gland polyps. Talk with your doctor about this risk.
If you use omeprazole for longer than 3 years, you could develop a vitamin B-12 deficiency. Talk to your doctor about how to manage this condition if you develop it.
Common Prilosec side effects may include:
cold symptoms such as stuffy nose, sneezing, sore throat (especially in children);
fever (especially in children);
stomach pain, gas;
nausea, vomiting, diarrhea; or
headache.
This is not a complete list of side effects and others may occur. Call your doctor for medical advice about side effects. You may report side effects to FDA at 1-800-FDA-1088.
What other drugs will affect Prilosec?
Sometimes it is not safe to use certain medications at the same time. Some drugs can affect your blood levels of other drugs you take, which may increase side effects or make the medications less effective.
Tell your doctor about all your current medicines. Many drugs can affect omeprazole, especially:
digoxin;
clopidogrel;
methotrexate;
St. John's wort;
a diuretic or "water pill"; or
an antibiotic - amoxicillin, clarithromycin, rifampin.
This list is not complete and many Other drugs may interact with omeprazole. This includes prescription and over-the-counter medicines, vitamins, and herbal products. Not all possible drug interactions are listed here.
What foods should I avoid when taking omeprazole?
There are no specific foods that interact with omeprazole, therefore there are no foods that you need to avoid.
Omeprazole is a medicine that is used to decrease the amount of acid your stomach makes.
It is used to treat conditions including duodenal ulcers, heartburn, indigestion, acid reflux, gastric ulcers, to reduce the risk of upper gastrointestinal tract bleeding and other health problems related to excess acid.

Food Tips when taking Omeprazole:
When you are suffering from excess acid, indigestion, heartburn or ulcer symptoms some foods or drinks may aggravate your symptoms. Foods and drink triggers for stomach and acid problems vary from person to person so watch how your body reacts to specific food and adjust your diet accordingly.
Acidic foods and drinks such as apples, lemons, grapefruit, oranges, tomatoes, wine, lemonade, coca-cola, fruit juices and energy drinks can make GERD, heartburn indigestion symptoms worse.
Greasy or fatty foods like french fries, pizza, deep fried chicken slow the digestive system down and often causes indigestion, heartburn and nausea.
Onions, garlic, chocolate, coffee, peppermint and some spices can also cause an increase in gastric symptoms.
White wine and beer have been shown in a study to cause gastro-oesophageal reflux in GERD patients with the study recommending patients to avoid drinking more that 300ml of beer or white wine.
Low alcoholic beer and wine was also studied to see if it caused reflux and it did, this was unrelated to the alcohol or acidity levels.
Prilosec: 7 things you should know
How it works
Upsides
Downsides
Bottom Line
Tips
Response/effectiveness
Interactions
1. How it works
Prilosec is a brand (trade) name of omeprazole which may be used to treat certain stomach conditions by decreasing levels of stomach acid.
Prilosec (omeprazole) reduces the production of stomach acid by works by irreversibly blocking the actions of an enzyme responsible for acid production, called H+/K+ ATPase (also known as the gastric proton pump). The proton pump is located in the parietal cells of the stomach wall. Both baseline gastric acid secretion and stimulated gastric acid secretion are affected; the degree that they are affected to depends upon the dose of omeprazole.
This allows damaged tissue in the esophagus, stomach, and duodenum to heal, and reduces the risk of new ulcers from forming. PPIs are also used to treat other gastrointestinal disorders characterized by excessive acid secretion.
Prilosec (omeprazole) belongs to the class of medicines known as proton pump inhibitors (PPIs).
2. Upsides
May be considered for the short-term treatment of gastroesophageal reflux disease (GERD) (also known as heartburn) and erosive esophagitis (a severe inflammation of the lining of the esophagus - the tube that carries food from the mouth to the stomach).
May be used in addition to antibiotics to eradicate Helicobacter pylori (a bacteria found in the gut that is linked to gastric ulcers).
Can be used for the short-term treatment of active duodenal ulcer in adults. Most people heal within 4 weeks.
Useful for the treatment of hypersecretory conditions such as Zollinger-Ellison syndrome.
Usually only up to 4 weeks of treatment is required; however, some people may require an additional 4 weeks.
Prilosec may also be used to maintain the healing of erosive esophagitis.
No dosage adjustment is needed in people with kidney disease; however, a dosage reduction should be considered in those with liver disease, particularly when Prilosec is used to heal erosive esophagitis.
Omeprazole is available as a tablet and capsule formulation in various strengths and also as an oral suspension.
Generic omeprazole is available.
Effective at healing stomach ulcers and relieving symptoms of heartburn, indigestion, and gastroesophageal reflux disease (GERD), although will not relieve them immediately.
3. Downsides
If you are between the ages of 18 and 60, take no other medication or have no other medical conditions, side effects you are more likely to experience include:
Diarrhea, a headache, drowsiness, abdominal pain, nausea or vomiting, or tongue discoloration. May also interfere with some laboratory tests.
Taste disturbances have also been reported but these usually resolve on discontinuation of therapy.
Prolonged treatment (greater than 24-36 months) may cause vitamin B12 deficiency. The risk is greater in women, people younger than 30, and with higher dosages.
PPIs (including Prilosec) have been associated with an increased risk of osteoporosis-related fractures of the hip, wrist, or spine. People on high-dose or long-term therapy are more at risk.
Has also been associated with other conditions such as lupus erythematosus and magnesium deficiency.
Administration of PPIs (such as Prilosec) has been associated with acute interstitial nephritis, a severe inflammation of the kidneys. May occur on medication initiation or at any point of therapy. Symptoms include fever, rash, and generalized aches and pains. Discontinue Prilosec and seek medical advice.
Has been associated with a greater risk of Clostridium difficile-associated diarrhea. See your doctor if you develop diarrhea that does not improve.
May interact with some other medications including methotrexate, clopidogrel, digoxin, iron-containing supplements, and sometimes warfarin. Prilosec can also reduce the absorption of drugs that are dependant on a certain gastric pH for their absorption. It may also interact with drugs metabolized by the cytochrome P450 pathway (particularly CYP2C19 and CYP3A4).
Some studies have suggested PPIs (such as Prilosec) are associated with a higher risk of stomach cancer and kidney disease.
There are no adequate or well-controlled studies of Prilosec during pregnancy but animal studies have shown changes in bone morphology in offspring of rats dosed throughout pregnancy and lactation. Use only if potential benefits justify the risk. It is unknown how Prilosec affects a breastfeeding infant.
Note: In general, seniors or children, people with certain medical conditions (such as liver or kidney problems, heart disease, diabetes, seizures) or people who take other medications are more at risk of developing a wider range of side effects. View complete list of side effects
4. Bottom Line
Prilosec decreases stomach acid production which promotes the healing of gastric and duodenal ulcers and other inflamed gastrointestinal tissue areas. The risk of interactions with Prilosec is greater than with other PPIs such as lansoprazole and pantoprazole. Prilosec is best used short term.
5. Tips
Can be taken once daily unless the dosage is more than 80mg/day, then the dosage should be split. However, you should always take Prilosec as directed by your doctor. Use the lowest dose for the shortest amount of time appropriate to the condition being treated.
Administer on an empty stomach at least 1 hour before a meal.
Do not crush or chew tablets or capsules. Swallow whole.
Capsules can be opened and contents mixed with applesauce in patients who have difficulty swallowing capsules. Do not heat, chew, or store the applesauce for later.
Prilosec is available as a powder that can be mixed with water to form a suspension.
Talk to your doctor if your symptoms appear to be getting worse.
Heartburn often causes similar symptoms to those of a heart attack - seek emergency medical attention if you have chest pain or a heavy feeling in your chest, or pain that spreads up your neck or down your arm.
Do not take Prilosec if you are allergic to other proton pump inhibitors.
Prilosec may sometimes cause unusual results with medical tests.
See your doctor if you develop any unexplained fever, rash (particularly one that gets worse after you have been in the sun), new or worsening joint pain, persistent diarrhea or generalized aches and pains.
Also see your doctor if you develop any muscle cramps, spasms, or weakness; jitteriness; abnormal heartbeat; dizziness; seizures; or any other symptoms of concern.
Tell your doctor if you are breastfeeding, pregnant, or intending to become pregnant because omeprazole may not be suitable for you.
6. Response and effectiveness
The acid-suppressing effects of Prilosec occur within an hour of dosing, with the maximal effect occurring within 2 hours. Effects last for up to 72 hours.
Acid levels return to previous levels within 3 to 5 days of discontinuation.
7. Interactions
Medicines that interact with Prilosec may either decrease its effect, affect how long it works for, increase side effects, or have less of an effect when taken with Prilosec. An interaction between two medications does not always mean that you must stop taking one of the medications; however, sometimes it does. Speak to your doctor about how drug interactions should be managed.
Common medications that may interact with Prilosec include:
aminophylline or theophylline
amphetamine
ampicillin
astemizole
bisphosphonates, such as alendronate, etidronate, or risedronate
capecitabine
cefuroxime
citalopram
clopidogrel
clozapine
cyclosporine
CYP2C19 inducers such as enzalutamide, rifampin, tocilizumab, or St John's Wort
CYP2C19 inhibitors such as amitriptyline, clomipramine, fluconazole or ticlopidine
delavirdine
digoxin
diuretics
doxycycline
HIV medications (eg, atazanavir, indinavir, ritonavir, or saquinavir)
iron supplements
mesalamine
methotrexate
methylphenidate
medications that rely on a certain gastric pH for absorption, such as ampicillin, bisacodyl, dasatinib, erlotinib, iron salts, ketoconazole/itraconazole, mycophenolate mofetil, or nilotinib
moclobemide
multivitamins that contain vitamins A, D, E, or K; folate; or iron
sucralfate
tacrolimus
tumor necrosis factor inhibitors such as adalimumab, etanercept, or infliximab
warfarin.
In addition, Prilosec may affect some diagnostic tests, for example, those for neuroendocrine tumors or the secretin stimulation test. There have also been reports of false-positive urine screening tests for tetrahydrocannabinol (THC) in patients receiving PPIs, such as Prilosec.
Note that this list is not all-inclusive and includes only common medications that may interact with Prilosec. You should refer to the prescribing information for Prilosec for a complete list of interactions.